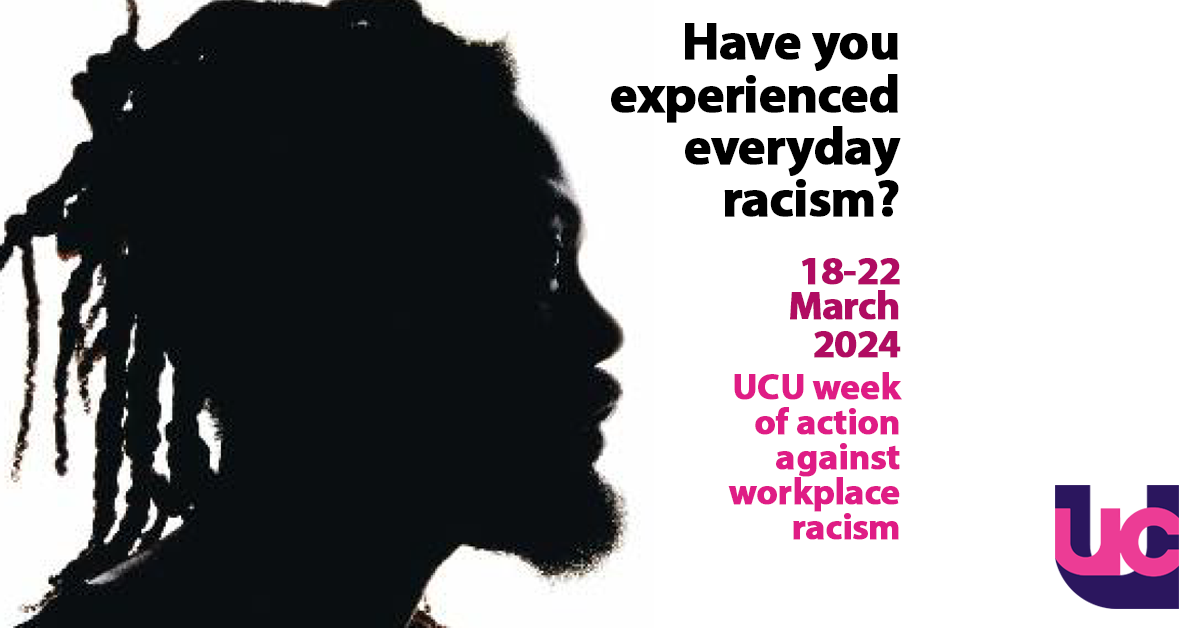 On February 10th, Kingston UCU marked the Day of Action against Workplace Racism with a series of events intended to kick off an ongoing discussion about experiences of racism and discrimination within the Kingston University community, and to explore what kinds of things we might do as a union to support colleagues and students who face these issues. The events were organized by the Kingston UCU Equalities Working Group, which hopes to shape and expand its work in response to the series of invigorating discussions and connections made that day, and to do so by working in tandem with the Union of Kingston Students, UNISON, students and student societies, university units and services concerned with these issues.
A first panel on Prevent was meant to provide inputs to help KU staff and students answer the question, "What does Prevent Mean for Us?" A part of the government's overall counter-terrorism policy, the Prevent strategy is an effort to encourage public sector service providers (since September 2015, including university teaching and non-teaching staff) to monitor student behaviour for signs of growing radicalisation. This panel was only the latest in a series of campus discussions attempting to come to terms with what this controversial policy implies for the KU community.
The panel began with two films which exposed the growing experience of Islamophobia faced by Kingston students. Following the screenings, student film maker Jamie Wheeler-Roberts explained that she felt that the best way to expose the racism and fear faced by fellow students was to let them tell their stories in film. Bill Bolloten (a former teacher, educational consultant and member of the #EducationNotSurveillance network), argued that the implementation of Prevent at the primary and secondary school levels has been poorly thought through, and risks inflicting long-term damage on those Muslim students (as young as 4 years in age) who have been reported for expressing "extremist ideas" on the flimsiest and often misplaced grounds. He suggested that the best way to combat this risk to community relations is to open a broad space for dialogue on the policy. Politics lecturer Jessie Blackbourn, a specialist in counter-terrorism law and human rights, provided a brief overview of the legal grounds of Prevent, noting the gap between the government's stated intentions and the vague and often unproven assertions on which the policy is based, all of which will make its implementation either unworkable or counter-productive. Amanda Latimer, a member of the Equalities WG, provided an open invitation for teaching staff to get involved in coming up with an educator's response to Prevent that works for the Kingston community, keeping in mind the risk to the relationship of trust between a teacher and student that successful learning & teaching depends upon. The discussion that followed drew together ideas and concerns from students from Kingston ISOC and Politics Society, lecturers and parents, and reinforced the need for different parts of the university to work together on this issue. In the following session, Winsome Pinnock (UCU Equalities Officer and Head of the Creative Writing department) lead a screening and discussion of the new film, Witness: An Oral History Project, produced by the UCU Black Members Standing Committee. The film chronicles the experiences of workplace racism and discrimination faced by Black members of colleges and universities. It placed disturbing individual testimonies of everyday and institutional racism against the picture of systemic discrimination that was recently revealed in a survey of 631 Black union members working in the FE and HE sector. The study revealed that a staggering 71% of Black members of staff have reported being subject to bullying and harassment from managers, and that 90% have faced barriers to promotion in colleges and universities.
These stories and findings resonated with staff in attendance, who shared stories of facing a racial glass ceiling to promotion and progression, and of feeling unsupported in their training as junior academics to enter the competitive world of academic career development due to their racial background. The discussion emphasized the importance of bringing Black staff together in the workplace to fight the isolation that comes with experiences of racism; the importance of mentoring opportunities to support the professional development of BME staff members; and finally, the responsibility of trade unions to directly address racism within the workplace and union branches themselves.
The day finished with the Big Black Read: an intimate group reading of the award-winning prose poem Citizen: An
American Lyric, by Claudia Rankine, coordinated by Winsome and Dave Tinham, both of the Equalities WG. The reading drew in a large, diverse crowd of people from different corners of the university, returning students, and acclaimed actor Burt Caesar, a veteran actor and teacher whose work includes performances with the Royal Shakespeare Company as well as in feature films like Skyfall. Following naturally from the previous session, the poem was read by a succession of readers while images from its text were screened in the background, allowing each to explore the subtle and almost inexpressible, to starker ruptures of racism that mark the everyday of an African-American woman living in Obama's "post-racial America."
The UCU Equalities Working Group is currently working to address the BME attainment gap and issues faced by BME staff with both Kingston staff and students, as well as the Prevent strategy, and is headed by Winsome Pinnock, Kingston UCU Equalities Officer. If you have experienced racism or other forms of discrimination in the workplace, or would like to get involved with the Equalities Working Group to address these and other equalities issues in the future, please email Winsome (w.pinnock@kingston.ac.uk), Dave Tinham (d.tinham@kingston.ac.uk) or Amanda Latimer (a.latimer@kingston.ac.uk).
If you are a BME member of staff at Kingston and would be interested to join a newly forming Kingston BME staff network, then please email Winsome at w.pinnock@kingston.ac.uk
Resources mentioned above:
UCU Day of Action Against Workplace Racism homepage (also includes links to UCU's work on a range of Equalities issues)
Are You Islamophobic? (3:21, directed by Ajoke Tairou)
What does it mean to be Muslim in London? (3:59, directed by Jaime Wheeler-Roberts)
Education Not Surveillance. Bill Bolloten, 22 October 2015, Institute of Race Relations Blog.
Stop, look, listen: the University's Role in Counterterrorism. Jessie Blackbourn and others, 14 January 2016, Times Higher Education Supplement.
Witness: an Oral History Project (31:57, UCU Black Members Standing Committee).
Report: The Experiences of Black and Minority Ethnic Staff in Further and Higher Education. February 2016, UCU.
Audio clip: From Citizen: An American Lyric, by Claudia Rankine. March 2014, Poetry Foundation.
Review: Citizen: An American Lyric by Claudia Rankine review – the ugly truth about racism. Guardian, 30 August 2015.